Duluth Dental Associates​

Family, Cosmetic & Implant Dentistry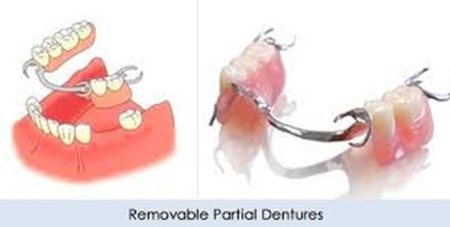 With the exception of an overdenture, normal partials, immediate dentures and full dentures can be completed in a matter of weeks, depending on your current situation. Impressions of your mouth are taken and sent off to our laboratory for fabrication of these removeable appliances. We typically have a "try-in" phase in which we we get your input and test the comfort, fit and esthetics of the appliance before allowing the lab to do its final processing. Please feel free to call or visit us with any questions or concerns if you feel this is an option for you.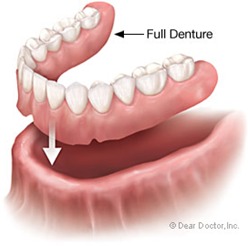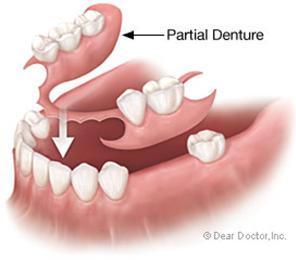 A partial denture usually consists of replacement teeth attached to a pink or gum-colored plastic base, which is sometimes connected by a metal framework that holds the denture in place in the mouth. In the example to the left, the entire partial is made of a hard-flexible plastic. In the example below, the base is connected to a metal framework. Partial dentures are used when at least one or more natural teeth remain in the upper or lower jaw. Not only does a partial denture fill in the spaces created by missing teeth, it helps prevent other teeth from changing position. A partial denture is removable and has "clasps" that help attach it to the teeth.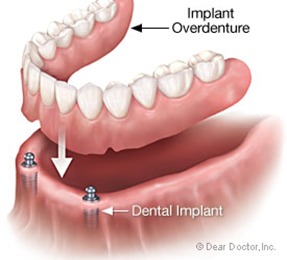 As stated before, conventional full dentures are tissue retained, therefore do not have "anchors" holding it in place. With advancements in dentistry, we are able to provide a more "permanent" retained denture with the aid of Implants. Implants are special cylinders that are placed in the underlying bone and ultimately support and retain your denture, similar to how a tooth root supports a tooth. When dental implants are used in conjunction with a denture, it increases the strength, stabilty and retention drastically! To the right, is an illustration of how an Overdenture works. This can be done for the upper teeth as well. Please note that implants are require adequate existing bone for predictable results, please see us for more information.
It is very important to know that dentures require a period of acclimation, you have to get used to them. New dentures may feel awkward or uncomfortable for the first few weeks or even months. Eating and speaking with dentures might take a little practice. A bulky or loose sensation is not uncommon, while the muscles of your cheeks and tongue learn to hold your dentures in place. Excessive saliva flow, a feeling that the tongue does not have adequate room, and minor irritation or soreness are also not unusual. If you experience irritation, please don't hesitate to call us as we may be able to make an adjustment to the denture to make it more comfortable.
Full dentures conventionally replace all teeth in your mouth that are used primarly for chewing. Typically they are retained by the underlying bone and gingiva(gums) that are left when your teeth are removed. Healing may take several months, during which time you are without teeth. Don't worry, we can provide a temporary solution as your bone and gums heal. These are called immediate dentures. An immediate full denture is inserted immediately after the remaining teeth are removed. We take measurements and make models of your jaw during a prior visit. While immediate dentures offer the benefit of never having to be without a set of teeth, they must be relined several months after being inserted. The reason is that the bone supporting the teeth reshapes as it heals, causing the denture to become loose.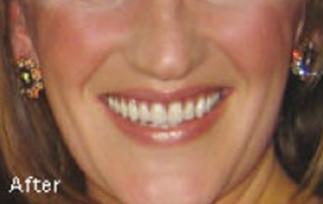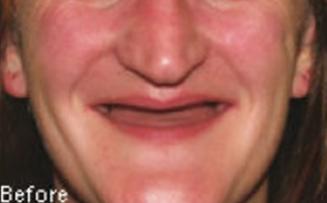 Let's face it. NO ONE LIKES TO BE WITHOUT TEETH! It makes it difficult to chew and eat and most people are afraid to smile as a result of missing teeth. Not only does it hinder you mentally, it physically causes a depression in your facial profile making most people look a lot older than they really are. Well, we can help fix that! Dentures and partials are dental appliances designed to replace partially missing or completely missing teeth. It is important to know that although the purpose of a denture and a partial is similar, they are very different in how they are prepared, worn and retained in the mouth.